HARDWOOD FLOOR INSTALLATION AND REFINISHING ORANGE COUNTY

The following images are some examples of my hardwood flooring and staircase installation and refinishing projects that me, and my team have completed in the Orange County area. As a hardwood flooring contractor I have installed and refinished countless prefinished engineered hardwood floors, my portfolio mainly consists of solid wood flooring to illustrate a more broad spectrum of my services. These pictures consist of hardwood floors and stairs that I have installed, sanded, stained and finished. The cities here include: San Juan Capistrano, San Clemente, Aliso Viejo, Laguna Beach, Laguna Niguel, Coto De Caza, Ladera Ranch, Irvine, Rancho Santa Margarita, Mission Viejo, Foothill Ranch and Newport Beach. Visit my HOUZZ webpage to view larger pictures and read more comments about some of these Orange County hardwood flooring projects.
For my complete list of services
Click to see my Home page.
The first four images illustrate one detail of my hardwood floor installation service.
I have worked in two separate homes through this same owner. The first home was in the Hunt Club Community where I refinished her hardwood floor. The second home is illustrated here, San Juan Capistrano, where I installed this new hardwood floor:
These four images show one out of many examples of my hardwood floor installation details. This engineered Maple plank hardwood floor was skillfully scribed cut along all focal points and architectural features in the room. This single detail gave the wood floor a clean elegant look. If your hardwood floor and installation of choice will not allow for such close tolerances, I will offer you the molding and trim options that will give your finished wood floor that custom look. ↓
This San Clemente homeowner hired us to refinish his oiled Richard Marshall Maple hardwood floor for a high durability commercial-grade urethane. ↓
This Aliso Viejo homeowner was set on hiring a Bona Certified Craftsman in her area to refinish this Knotty White Pine, wide plank hardwood floor. Her confidence in the Bona products and my respected reputation together gave her exactly what she expected. ↓
We have worked for this homeowner on three separate occasions. Once in his previous Trabuco Canyon home where we installed, sanded and finished a solid Bubinga hardwood floor. Then twice which is illustrated here, Laguna Beach:
The initial visit was for installing, sanding and finishing this solid Teak staircase and entry level wood floors. Finally, he called us years later to install and refinish the same kind of Teak hardwood floor but for the lower-level. ↓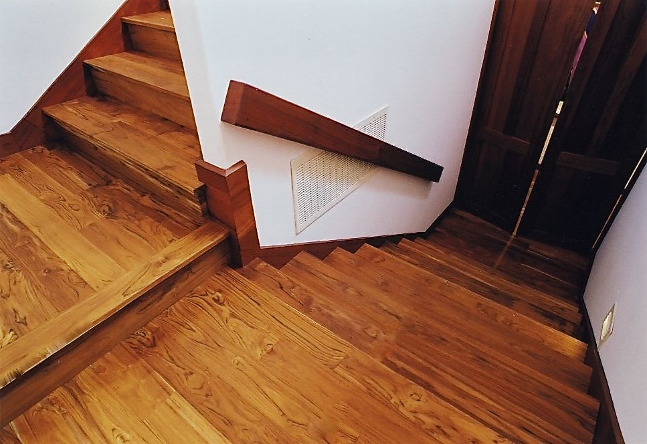 Santos Mahogany hardwood floor refinishing Bear Brand Ranch community in Laguna Niguel. ↓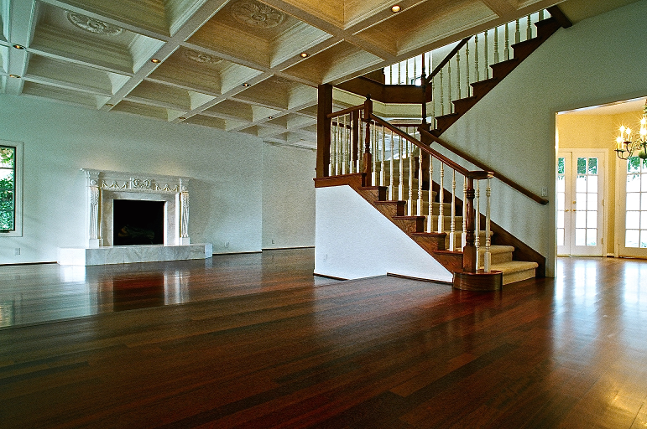 This homeowner hired me twice. The first time was sight unseen; her family was moving in from out of state. She said that I gave her more options and personal attention.
The first hire was for installing, sanding and finishing this solid Red Oak strip hardwood floor in her Bear Brand community Laguna Niguel home.
The second hire was years later to refinish this same hardwood floor but with a different color to match her newly redesigned interior. ↓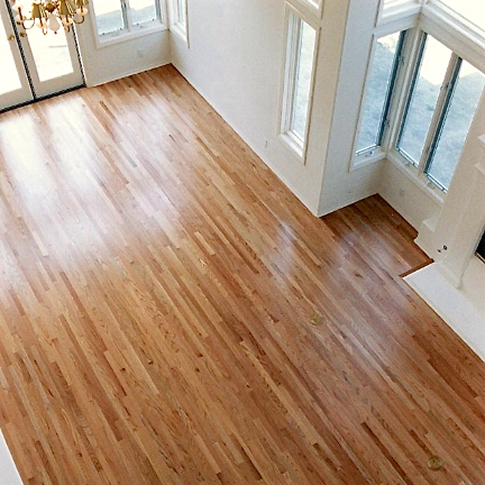 This Coto De Caza homeowner hired us to replace the carpet on the staircase and second level floor with solid Red Oak. We installed, sanded, stained and refinished the hardwood floor and staircase to match.
The staircase: I made separate templets to cut each pie shaped tread so there would be a precision fit next to the painted surfaces on both sides, (this saved from the expense of replacing the handrail system.) Plus, I replaced the false risers that were on both sides of the removed carpeted risers with full-length pieces of painted risers. This gave the staircase a clean look without an altered appearance. ↓
The upstairs and downstairs hardwood floors, including the staircase, were refinished in this Ladera Ranch home in time for an open-house sale. ↓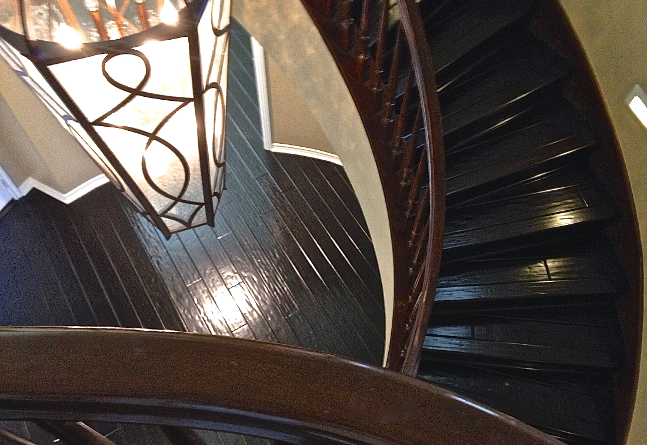 Maple hardwood floor sanded, stained and refinished; Irvine. ↓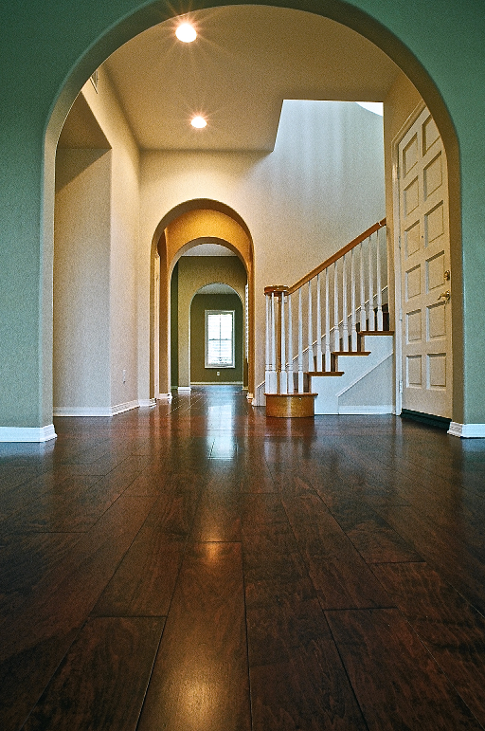 This San Clemente homeowner hired us to install, sand, stain and refinish this solid Ash hardwood floor with Jarrah feature strips and Ash boarders over the entire first-level floor. (Also see image below left.) ↓


I have worked for this Rancho Santa Margarita homeowner on two separate occasions:
The first visit was for installing this solid Birch, random width, plank hardwood floor on the ground level. The second visit was to install a solid Pine, wide plank hardwood floor with Iron Wrought Nails in the master bedroom. (Also see image above right.) ↑ ↓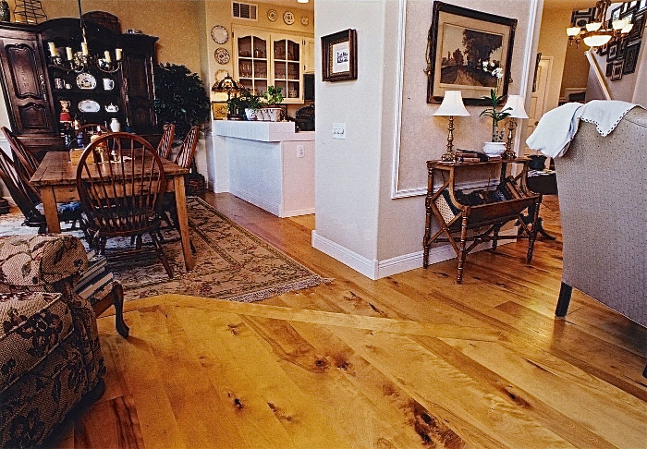 This was the second of two hires for this Laguna Niguel homeowner:
The first hire was for custom refinishing the first-level solid Red Oak hardwood floor. The second hire is when he remodeled this master bedroom. I refinished this hardwood floor to his desired look of a black piano. After sanding, I stained the wood floor with a high solid black then I applied a high-gloss finish. Although the hardwood floor is monochromatic, it retained its natural wood appearance due to the grain texture of the plain sawn cut. Furthermore, the wood floor color fits with the grey walls, white ceiling and wainscoting. ↓
This Mission Viejo homeowner hired me on two separate occasions:
The first hire was for installing, sanding, staining and finishing this solid Pecan Hickory Haddon Hall pattern hardwood floor. Years later when he did a major interior remodel, he hired me to replace the existing baseboards with new tall decorative base. Then I completely refinished this hardwood floor. ↓
Red Oak hardwood floor sanded, stained and refinished, San Juan Capistrano. ↓
I was hired twice by this San Clemente homeowner:
The initial visit was for installing, sanding and finishing a true marine grade solid Burmese Teak hardwood floor throughout this Ranch-Style home. The second visit was years later when she completely remodeled the exterior and interior of her home to a Craftsman Style. The remodel required an extensive repair and refinish due to the wall reconfigurations. (I wish I would have photographed the interior remodel; it is absolutely gorgeous). In the ten years between visits her floor has increased in value by six fold, which has added a major appreciated worth to her home. ↓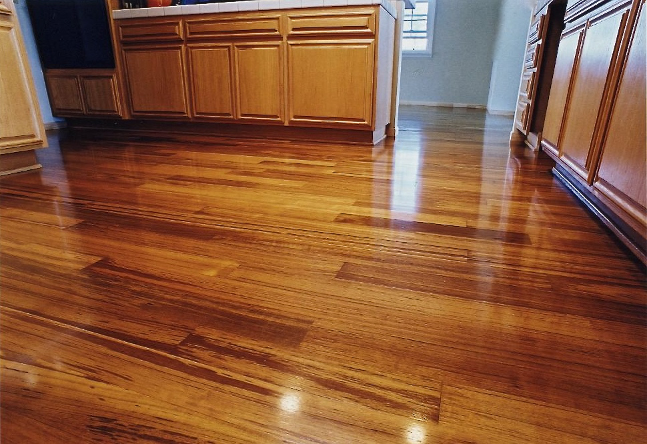 I have worked for this Foothill Ranch homeowner on two separate occasions:
The first visit I installed a solid Birch, random width, plank hardwood floor on the ground level. The second visit was for installing this solid Pine, wide plank hardwood floor with Iron Wrought Nails in the master bedroom. ↓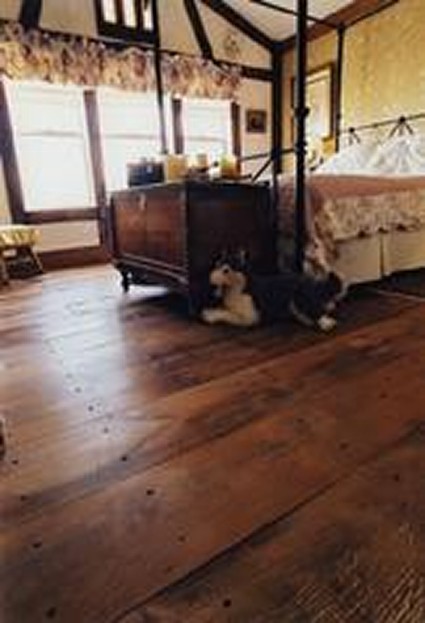 This is the second occasion I have worked for this homeowner. I have worked for his business partner twice as well. The homeowners' partner was my original contact and referral.

Upon my first visit in this Newport Beach home, I installed a Santos Mahogany hardwood floor on the top level, and I installed, sanded and finished a solid Santos Mahogany staircase. (I should have photographed the staircase.) Years later, the homeowner decided to do a major whole-house remodel. So I was asked on a second visit to install the same hardwood floor in the attic. Then I refinished the wood floor and staircase I installed on the first visit. ↓